In this article I am going to review EvoEstate, a real estate crowdfunding aggregator, which allows you to invest in projects across all major European real estate crowdfunding platforms, using just a single account.
We will understand why is probably the best platform for your real estate investments. You will learn the basics, but not just that. I will also share tips and tricks from my own experience so you'll be up to a really good start.
This is a rather long but comprehensive article and that's why I made the decision to package the most useful information in the form of a FAQ.
So, if you're in a hurry and you already have a little bit of experience with EvoEstate, you can certainly skip directly to FAQ.
Otherwise, let's get going.
Table of contents
What is real estate crowdfunding and how it compares with classical real estate?
Before starting to learn more about EvoEstate, I thought it will be good to know more about real estate crowdfunding in general and how it compares with classical real estate when you mostly buy for renting but also for flipping.
However, if real estate crowdfunding doesn't make your brain hurt, and you have a good idea what is, then feel free to skip this section. Otherwise, if you don't know much, then, dear newbie, welcome, and keep reading.
So what is real estate crowdfunding?
Just to give a standard, and rather boring definition, is the practice of funding a real estate project by raising small amounts of money from a large number of people, mostly retail investors, typically through a web platform.
I find it very appealing as you can start investing in real estate with ridiculous small amounts of money. Think 50 EUR. This means you don't need to have tens of thousands of Euros to start investing in real estate.
This is democratisation of real estate investments and I absolutely love it.
Pretty much anyone can do it, and you can as well. The beauty is that you can start investing right away, with a few clicks, from the comfort of your home.
You don't have to own just one investment, but you can spread your risk among many. If you have 1.000 EUR you can invest in as many as 20 real estate projects.
Now, how cool is that?
If we talk about classical real estate, then the level of effort from a time perspective, and of course financially is magnitudes higher. You almost can't compare them, except that the underlaying asset in both cases is a property.
Don't get me wrong, I am not trying to minimize the importance of owning classical real estate. I think every investor who truly wants a diversified portfolio and aiming for financial independence, must absolutely own at least one rent property.
In fact, I am actively trying to purchase one for a while.
My strategy is to own a rental property in my home country market which I know it well, and where I also have the means to properly manage it.
And then make use of real estate crowdfunding to diversify my portfolio across different foreign markets and countries.
So in my opinion, is not crowdfunding vs classical real estate, but rather both.
Alright, now we can move on and discuss about EvoEstate 🙂
What is EvoEstate?
Well, as mentioned in the introduction, EvoEstate is a real estate crowdfunding aggregator, a marketplace, which allows you to invest in projects across all major European real estate crowdfunding platforms.
There are many individual real estate crowdfunding platforms, each one with its own strengths and weaknesses, but EvoEstate is the only one who brings them all together under the same account. It makes it much more easier to manage your investments, while giving you great diversification.
Talking about diversification, the platform allows you to invest in different types of deals, from rent properties, to fixed-interest loans and even equity projects. Will talk in great detail about each one later in the post.
I think one of the strengths of EvoEstate is that they build the platform with a focus on individual investors. They try to solve our problems, which is good news for us.
That is in contrast with most of the individual platforms which are not investor focused. They rather solve problems for borrowers, the real estate companies and developers which aren't able to finance through the regular channels, like banks.
Another point to make which is specific to some of you is that EvoEstate enables indirect access to specific platforms which otherwise may block you based on the country of residence. In other words, as a foreigner you may not be allowed to invest in some of these individual platforms directly due to strict rules and regulations.
Here is also a quick introduction video which I think you may find it very useful to get a better idea of EvoEstate:
More about EvoEstate
It launched in Estonia, on February 2019, so is definitely a young company, but with potential for the future.
At the moment of writing this, EvoEstate has over 3.000 investors from 50 countries, 19 loan originators and the real estate projects are spread over 15 countries. They funded so far over 150 projects with a total value of investments of 2,2 million EUR.
The interest on repaid projects (XIRR) was about 13,11%, which is really good.
Maybe these numbers are not mind blowing, but remember, they are still young and only targeting real estate projects. Anyway, I expect to see a sustained growth of their business, given also a positive evolution of the COVID-19 pandemic crisis in the next couple of months.
The team
Gustas Germanavičius, is the CEO and also co-founder and although pretty young, he is very knowledgeable.
What's really impressive is that he sold his first business at only 20 years old, in April 2019, a venture-backed startup called WellParko.
I got the chance to talk to him for an hour so that I can get all my answers for this post, and I actually enjoyed it very much.
And then we have Audrius Višniauskas, the CIO and also co-founder, who has a lot of experience with internet businesses, selling two of them in the past and being a private investor in many of them, including Revolut.
You can check out the full team on their About Us page.
Other than full-time employees, they also have a network of local consultants who help them handle the due diligence process.
They don't seem to have a classical office, as they are mostly a remote team. This may be considered suspicious for some, but that's totally fine with me. Given the pandemic times, I think that was an advantage, as their working schedule wasn't disrupted at all.
You can however find Gustas at ROCKIT Vilnius, a co-working space in Lithuania with a focus on FinTech.
Funding
EvoEstate is baked by private investors and funds, but most interestingly is the venture capital from well known funds like Startup Wise Guys (who also invested in EstateGuru and Investly) and Business Angels Fund.
Having venture capital joining EvoEstate is a positive thing and reassurance that things are moving in the right direction.
To build on that, when such an investment happens there is a lot of due diligence being done. The VCs are doing lots of checkups, including on the founders, to make sure that everything looks good.
Moreover, VCs usually don't invest in companies in the same industry. That's a no go, so the fact that they invest in EvoEstate while being shareholders of EstateGuru is something to be noted.
The first round of funding of 180.000 EUR was closed in February 2020 and was lead by Startup Wise Guys. EvoEstate used the money to expand the team. They also set 10.000 EUR aside in case of their default to appoint a contractual entity that would facilitate all the remaining transactions. You can read more about this round of funding here.
And just recently they announced another round of funding in value of 140.000 EUR which is essentially closing the pre-seed funding round of 320.000 EUR in total. They want to use the money to fuel their global expansion and secure the required financial licenses. Read more here.
If you want to learn more…
My current situation with EvoEstate
I invest in EvoEstate from September 2019. I learned tons and now I have a much clear strategy on how to best invest with EvoEstate.
My own calculated annual return (XIRR) is 3,83% and the one their platform displays is 9,27%. The difference comes from the fact that my calculations take into account all money sent to the platform, including the uninvested ones. While on EvoEstate they take into account just the invested money. So I think both are very relevant.
How EvoEstate works?
EvoEstate doesn't offer loans directly to those who need the money. It rather works like a marketplace where you can find real estate projects you can invest into.
EvoEstate brings together loan originators with investors all over the world.
The loan originator is a separate company, usually a crowdfunding platform on is own, that issues loans to real estate businesses (or developers) for specific projects, outside EvoEstate platform. Think of companies like Reinvest24, Housers, Rendity, Inveslar, and so on. You can see the full list here.
The loan originator makes the initial risk assessment for each project, which sets up the interest rate and then starts the crowdfunding process.
Next, this is where EvoEstate comes in.
They analyse all these projects from loan originators they partnered with through the lens of their scoring algorithm, assigning them a rating from A+ to D. Next, they list them on EvoEstate's platform, where they become available for investors.
If all of this sounds familiar, then, well, it is! The way EvoEstate works is very similar to, you guessed it, Mintos! Is just they focus on real estate projects.
Here is a simplified visual explanation: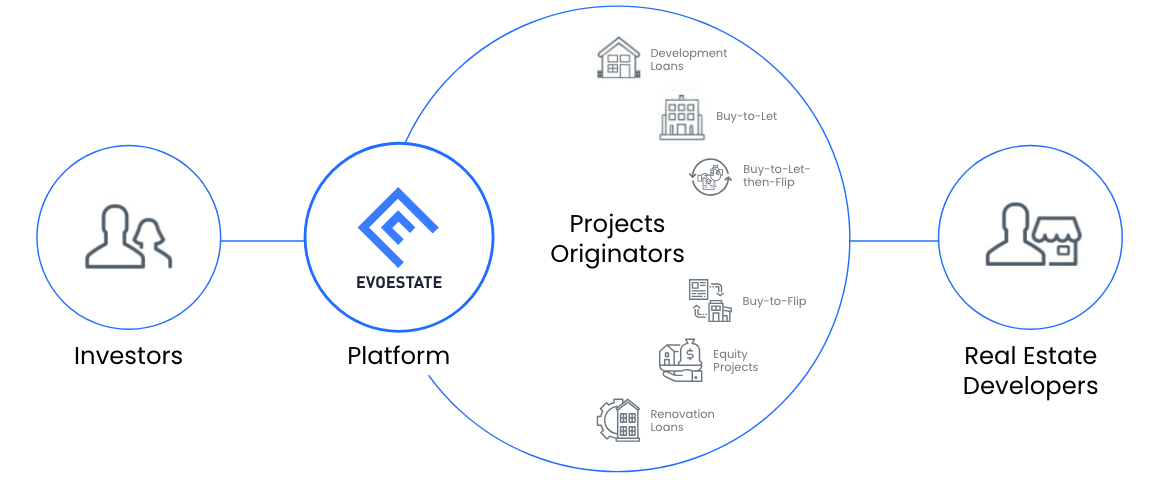 What really happens when we invest?
I think it's important to understand what REALLY happens when we invest in a project. Like how money are flowing and just get a better picture of the whole process.
Let's do a deep dive!
Depending on loan originator things may happen in a way or another.
For some of them everything is automated and done through APIs. When you invest in a project through EvoEstate is as if you invest directly through the loan originator's platform. In this case there is no reservation of funds being made specifically for EvoEstate investors.
However, you need to understand that the investment is done through a business account that EvoEstate owns on the originator's platform, and is not done under your name, but rather on behalf of you.
Once a project is funded, only then the invested money are transferred to the loan originator. This is important to know. If the project cancels, EvoEstate has the capability to return the money back to investors accounts instantly.
On the other hand, there are some loan originators where the investment process is not that automatic. In this case there is a reservation that's made for the project which means a chunk of the project is specifically assigned to EvoEstate investors.
Then this chunk is listed on EvoEstate, and available to be funded. Once all the money are raised they are transferred to the loan originator and process is completed.
Understanding the deal confirmation
For each investment you make on EvoEstate there is an associated deal confirmation PDF which is the proof of investment.
As far as I see you can find this deal confirmation in the email you get once you have invested in a project. However, I wasn't able to find it on their website.
Here is a sample below:
From a pure legal perspective, EvoEstate is a proxy, an agent. If we take a look from the originator's point of view the investment is held by EvoEstate, but in the name of us, investors.
So if you think about it, our investments are EvoEstate's liability. To be more clear, the claim is against EvoEstate, and not against the loan originator or the borrower.
In conclusion, the way EvoEstate works and their business model seems really smart, being a win-win-win situation for everyone involved.
The investors multiply their money by gaining interest from real estate projects they invested into, without the extra hassle of managing multiple accounts and benefiting the great diversification the platform offers.
The loan originators gain access to flexible and scalable funding.
And EvoEstate is earning a good commission from the loan originators.
It's also good to know that there are no fees when investing on EvoEstate, so no obvious reason not to give them a try if you're into crowdfunding and P2P lending in general.
7 reasons to choose EvoEstate
We learned so far what is EvoEstate and how it works. You probably already have good reasons why to choose EvoEstate but let's try to lay them out very clear.
REASON #1 – One account to manage all your real estate crowdfunding investments

Oh, this one is really appealing to me. Multiple account management across many platforms can be and will be time consuming.

Just think about it.

You need to go through the process of opening an account with each of them, complete the KYC process, get your account verified.

Then you need to fund all your accounts, which is time consuming and depending on how you handle your EUR transfers, can be costly as well.

Wait, but there is more.

You also need to understand how each platform works, manually browse projects or learn how to set up Auto Invest for each one to actually start investing.

If you think you're done once you invested in some projects, you're wrong. You need to maintain all your accounts, see how they are doing from time to time, invest in new projects, and so on…

Here is another disadvantage not many of you are thinking for sure.

At the end of year you need to do your taxes and most probably need to report each platform separately, depending on your country of residence.

If you don't want to deal with all of that, then using EvoEstate is really a smart decision as it will save you a lot of time and will give you a much better experience with a whole lot more opportunities. And the best part is that you get all of this at no extra cost.
REASON #2 – You can start investing with just 50 EUR

As stated before, there are many individual platforms out-there that you can invest in real estate projects. But each one comes with its own rules and limitations.

One of the most annoying limitation (and I am sure they have good reasons to have it like that) is the minimum amount allowed to invest in a project.

For example, Rendity, which is no doubt a very good platform, has a limitation of minimum 500 EUR per project. For us, retail investors, this is often a problem, as the gained interest can't be invested right away. You have to wait months, or even years, until you accumulate the needed 500 EUR, unless you bring more money in.

And then, if the total sum allocated for a platform is pretty small, the diversification across projects will not be great at all. On Rendity I invested 500 EUR in just one project, but I would have preferred to distribute that into 10 projects or so.

As you guessed it, this is not a problem with EvoEstate, as the minimum amount you can invest is just 50 EUR. That's a huge deal for me and I am loving it!

Even more, as the platform partnered with Rendity I can invest in them via EvoEstate. They have good deals and I wasn't very happy that I missed them due to the 500 EUR limitation.
REASON #3 – One of the best diversification when it comes to real estate investing

This one is a no brainer. You can invest across 19+ loan originators that covers 15+ countries, and can choose from 3 types of projects: fixed-interest, rent and equity projects.

So you can easily spread your investments across different countries, different loan originators, and different types of projects in an attempt to reduce the risks as much as possible.
REASON #4 – A free and very liquid secondary market

No matter what are your reasons, sometimes you may want to liquidate an investment. Therefore it's important for a platform not to just have a secondary market, but to also be a liquid one.

From my personal experience, and from EvoEstate statistics, they have a very liquid secondary market. Most of the discounted projects are sold within 48 hours.

And you don't always need to set a discount to be able to sell. If you wait a couple more days, there are high chances to sell your investment on par, or even with a premium.

From my own experiments, I was able to sell 3 projects fast and without any discount in full pandemic crisis. That's something!
REASON #5 – Skin in the game deals

Skin in the game deals are unique to EvoEstate. Haven't seen other platform offering this.

What happens is that sometimes they publish projects which the founders invest their own money, hence, skin in the game.

Usually these are high quality projects and they are in high demand on the platform, as you would imagine.

They invest at least 1.000 EUR into each skin in the game project. It might not be a lot, but they got into in many deals over time, the total amount of money invested so far being over 160.000 EUR, which is quite impressive.
REASON #6 – 24 hour cancellation for automatically invested projects

This one is pretty cool and unique to the EvoEstate platform.

For any investment made by the Auto Invest tool, you have a 24 hours window for cancelling the investment, no questions asked, and without any costs.

The way it works is very simple. You set up Auto Invest as you wish and then let it do its job. At some point the tool will start doing investments and when that happens you receive an email notification letting you know.

Next, you have 24 hours, period in which you can learn more about the invested project, and if something looks off, you can cancel the investment with one click of a button.

That's really awesome. Loving it!
REASON #7 – as foreigner you may not be allowed to invest is some of the individual platforms

For some of you this may sound familiar, but there are platforms out-there which are blocking users based on the country of residence.

So the solution would be to invest through EvoEstate, which is a nice and easy workaround.
How to open an EvoEstate account?
Opening an account on EvoEstate it's easy and would not take you more than 5 minutes.
You need to be at least 18 years old and have a bank account.
After registration you also need to verify your identity in order to be able to invest and withdraw your money. This is an EU anti-money laundry requirement, the well known KYC, so unfortunately you can't skip it. But it's easy enough, so I don't think you'll have problems.
Sign up bonus
Create an EvoEstate account using the button below and get 0.5% bonus for all investments made in the first 180 days. This is an affiliate link and it will be an easy way for you to support the maintenance of this blog.
Yes, I will make money too! It's a classic win-win situation.
How to invest with EvoEstate?
Now let's see step-by-step how you can start investing with EvoEstate.
Transferring money to EvoEstate using Revolut
The first step you need to do is to transfer money to your EvoEstate account. I recommend doing a first small transfer, like 10 EUR, to ensure everything goes smoothly, and then send bigger amounts.
EvoEstate allows you to send money to the platform using regular bank (SEPA) transfers or even Revolut.
My recommendation is to use Revolut, as is free and very simple to use. Let's see exactly how you can do that.
In the Revolut app, you need to create a beneficiary using the details from the Deposit page on EvoEstate. After that we can execute the transfer by selecting the newly created beneficiary and filling your details.
Good to know!

Always make sure to fill up the payment reference with your EvoEstate User ID, otherwise your money will be blocked.
If something goes wrong, and your money is not reaching your EvoEstate account in 2-3 days, send an email to their support and they will resolve the problem.
One more advice.
Always check their Deposit page for latest payment details before sending any funds.
It may happen that they change the payment details, and you risk to create a lot of headaches for yourself.
See below a screenshot that should help with this whole process of transferring money via Revolut.

For more details on how to use Revolut to send (or withdraw) money to P2P platforms, check out this article. It fully describes the whole process, using Mintos as example, but flows are identical otherwise.
Last time when I sent money from Revolut was on a Sunday, and I got them in my EvoEstate account in less than 1 hour. I was blown away by how fast and smooth everything went, even on a weekend.
Primary and secondary markets
On EvoEstate you will find two markets.
A primary market – the most important one – which will allow you to invest in new real estate projects.
And a secondary market, where you can sell your projects and why not, buy projects you may have missed on the primary market.
Both markets are completely free of charge. There is no cost associated when investing on the primary market or if you buy/sell projects on the secondary one.
The best way for a quick exit on EvoEstate is using the secondary market.
You can sell with a premium, on par, or why not, even with a discount, depending on your goal.
From my own experiments I can tell you that it's a pretty liquid market, even in pandemic times. I managed to sell 2 projects with 1% and respectively 2% discount and 3 projects with no discount at all in just a few days.
Otherwise, you can trade on this market to make a quick profit, using strategies aimed at maximising returns.
Here is a great example:
You can invest in both markets manually. You can also invest automatically using the Auto Invest tool, but for now just on the primary market.
For a beginner I recommend starting with the primary market and manual investments. Later on you can switch to Auto Invest. if you want to, but not necessarily needed.
The point is for you to get your hands dirty and just understand the whole platform better. Try to accommodate with the type of projects, the ratings, and so on.
Once you have a strong level of confidence you can also jump and experiment with Auto Invest. The purpose of using Auto Invest is to consolidate your portfolio and maximize returns while saving you time.
Types of projects
On EvoEstate we have 3 main types of projects: rent, fixed-interest (loans) and equity projects. Let's discuss about each one.
They can be confusing and hard to understand. I will do my best to explain the differences, but you can also read this blog post from EvoEstate.
Rent projects (buy-to-let)
Rent projects or buy-to-let (as you will usually find them on EvoEstate) have the lowest risk but also lower returns.
You can expect average annual returns from 4% to 8% just from renting. Add an additional 2% to 4% in case the property is being sold after a couple of years.
What happens is that all the money raised from investors are used to purchase a property for renting purposes. Then investors are getting monthly rental payments proportional to their investment.
I think it's important to understand that this is not a loan. It doesn't have a set yield or for that matter a defined period. What you get is the monthly rent, which you should not always expect it, if the are no tenants temporarily. I think not many realise this, but it happened already to one of my projects.
So this type of project is the closest to the classical real estate, where you buy a property for renting.
The type of purchased properties varies from commercial buildings to residential ones, like apartments for short- (Airbnb) or long-term renting.
If you ask me, this type of project is the most desirable, even though the returns are lower. It compensates with stability and predictability of my portfolio and this is what I want. And in case of troubles the property can be sold and funds recovered.
Well, you may say that this is not the best time for rental properties with this Covid-19 pandemic. However, keep in mind that the risks could be greater with other type of investments as well. In the worst case scenario when owning rentals you won't get rent for a couple of months. You may also need to lower your rent, forced by circumstances. But eventually things will turn around for good, and it's less likely to lose money.
For example I have this Airbnb project in my portfolio with no payments for 4 months (April to July). In August they started to pay again as tourism recovered. But I also have this commercial building with office spaces and no missed payments!
In the end, to minimize risks, it's important to have a mix between commercial and residential, short- and long-term renting.
Fixed-interest projects (loans)
When investing into a fixed-interest project you are usually lending capital to a real estate development company and receiving some sort of collateral as a guarantee.
You can expect to get anything between 6% to 15% as annual average return rates, higher than rentals, as the risks are higher.
As this is essentially a loan you will know up-front how much money you will make of out it. It offers predictability from a cashflow perspective which is an advantage when comparing with buy-to-let projects.
But the most important part to remember is that this kind of project still has collateral, underlaying assets, which in case of default may protect your investment.
Usually you want to buy projects which have real estate as collateral that can be sold in case of troubles. In this case the collateral (i.e. the real estate asset) is mortgaged at the notary, a price is given, and based on it, we can calculate the loan-to-value (LTV).
The LTV is very important as it will tell us how risky the investment is. If we have a lower LTV then it's probably a safer investment compared with one where LTV is more close to 100%.
One risk to be aware here is to have an overvalued collateral that will reflect in a lower LTV, and thus be misleading. In this case you may figure out that the collateral may not be sufficient to recover the entire capital.
It's very easy to recognise projects like this on EvoEstate as they usually show the LTV value. If LTV is missing, then most of the times that means the collateral is not a real estate asset, but rather some personal guarantees, and LTV can't be calculated. I tend to avoid those, even though the higher return rates are pretty tempting.
I would just like to mention one invisible enemy to this kind of project which is inflation. As they have a capped interest rate, in a high inflation environment, that might not be great. It may end up earning less and not worth the risk. You can mitigate this by investing in short-term projects, like under 1.5 – 2 years.
And if you think about it, buy-to-let projects don't have this problem, as the rent payments usually go up with inflation.
Equity projects
The equity or profit-participatory loans are investments in real estate development projects that are structured in a such a way their returns are strongly correlated with the outcome of the project.
Yes, the expected annual returns are in the range of 11% – 24%. But do keep in mind that this is the highest risk investment on EvoEstate which means it can also result into partial or full loss of money.
Most of the times there are no guarantees or collateral. However you may see projects where the borrower brings his own capital to the table which kind of aligns the interests of all parts involved in the investment.
Even if the type of project is Equity you are not an actual holder of the equity and is still essentially a loan, so don't let this confuse you.
You may still invest in this type of project if you want to maximize your returns over time. But to me this makes sense just in a balanced portfolio where you have other types of projects. And in general this depends on your type of personality, what kind of investor you are, and so on.
EvoEstate ratings
On the platform you can find two types of ratings: for a project and for a loan originator. The ratings go from A+ (lowest risk) all the way to D (highest risk – default).
All the projects are analysed and given a rating. Most of them will cut the line and end up being published on the platform, except those with a D rating, default.
I will be very open here and say that I really don't understand the way these ratings are calculated. I know EvoEstate says they are "based on factual data, with no place for interpretations or opinions" but will be great to have a simple way to understand the logic behind them.
In my call with Gustas he did mentioned that they work towards making things more clearly presented on the platform. Looking forward to see that happening.
What I do understand is that behind the scenes there is a scoring model which takes all these factual data as inputs, does the calculation and then outputs the score. The model seems smart and adapts to the type of deal and a few other factors to ensure an accurate rating.
They want to improve the model even more, so looking to hire a risk scoring agency from Spain to help them do that. This agency has been doing the same thing with other platforms in the branch like Housers.
If you want to learn more about ratings you can read this blog post or check out the recently released report "REAL ESTATE – INVESTMENT TYPES OF 2020" which you can download from their website.
All in all, it's great that we have these ratings. They allow us to make more informed decisions, and be able to uniformly compare projects between them.
Evaluating a project
The most important part when you invest with EvoEstate is the way to evaluate a project and make the decision to invest or not.
So I tried to develop my own decision framework (for lack of better naming), for investing into a project on EvoEstate. You can use it no matter if you invest manually or you choose to use the Auto Invest tool.
This framework is not the holy grail of investments and is just a very basic and rough way to help me make a quick decision.
If you have any suggestions on how to improve it, feel free to drop me a note in the comments.
Here are main things I look at when evaluating a project:
What's the project type?

This is very important, as my overall strategy is to invest in rent projects, as I would do in classical real estate. And only then try to maximize the returns by occasionally investing in other project types with higher interest rates.

I am disappointed that I failed big time to respect my strategy. Currently only 22% of my portfolio has rent projects. The failure comes from the fact that this strategy wasn't clear at first while I was mostly trying things out.

So what to look for based on project type?

For rent projects if they already have tenants, which will automatically translate in a lower risk. Or if we are talking about short term renting, then location and amenities are very important.

On loans let's take for example the development ones. If the project is early stages and we only have reservations and no sales made, then that's an increased risk. On the other hand, a plus would be if the project is already financed by a bank. In this case pay a closer attention to the LTV.

I invest in Equity projects but only if they are Skin in the game (founders of EvoEstate invest money).
Who is the loan originator behind the project and what's the rating?

I don't invest in all the loan originators and I try to do some sort of filtering.

Usually I choose loan originators with a rating of B, B+, A-, A while also trying to avoid those that are not regulated by the local regulator. You can find all originators with their ratings and more here.

Another thing I pay attention to is allocation per originator, making sure to not expose myself too much on a single loan originator. Keeping a good balance and diversify it's important to minimize risks.
What's the rating of the project?

Similarly to loan originator ratings, I try to invest only in projects with a rating of B, B+, A-, A.
Is there a collateral?

The collateral is very important as it will protect the investment in case of a default.

As you may have guessed it, I try to stay away from those that don't have collateral, or just have a personal guarantee.

If the collateral exists, usually it's a property, and in this case we need to pay attention to the LTV (loan-to-value) and try to understand if it's overvalued or not. Obviously the lower the LTV, the better.

Then I am checking the mortgage rank. I prefer primary mortgage rank instead of secondary, as that will have priority in repaying the funds in case of default.
How often the payments are being made?

I definitely like monthly payments but I don't dislike quarterly ones. However I am trying to stay away from annual payments or those made at the end of the project.

What can I say, I like a steady cashflow 😉
Manual investments on EvoEstate
For manual investments on primary market I won't say much here as I think it's pretty easy. All you have to do is go on the Projects page. Then pick the project you're interested, evaluate it according to your own rules, or why not, use the framework above and then invest if all sounds just right.
Automatic investments using Auto Invest
I will be honest and admit that I haven't used the Auto Invest feature of EvoEstate so far, and not because is not awesome, it really is, but I enjoy poking around at projects as they come in, and make a decision right away if I want to invest or not.
However, I am contemplating to experiment with Auto Invest and will explain the strategies I'm planning to use.
But first is important to remember you can define multiple strategies and for each strategy here are the main settings you can adjust:
Project type – the type of project, this filter being very important as it will allow me to split the strategies into Rent, Fixed-interest (loans) and Equity projects;
Portfolio size – how much money to allocate to the Auto Invest strategy you're configuring;
Period – how long the project period should be;
Amount for one project: as the name says, is how much it should invest into a single project, minimum being 50 EUR;
Country – in which countries you want to invest, being very easy to rule out some countries if you wish to;
Interest – allows you to select a range of the interest investors will get for projects;
Mortgage rank – this is pretty important, as for some projects we have a property as collateral and there is a mortgage. Now, the mortgage rank can be of two types: first and second. First rank is better, as that means you have priority recovering the funds if the collateral is sold in case of project default;
Project originator – allows you to select the project originators you want to invest.
It's good to know that when using multiple strategies, if there are enough money in your account, it will invest in all. If there are not, it will invest first in the the oldest strategy moving forward towards the newest. At least this is the answer I got from the EvoEstate team.
As I see it, this is one potential problem as there is no easy way to clearly define and control the priorities.
Alright, so I want to implement two strategies, one for Rent projects and one for Fixed-interest (loans) projects. I am staying away from equity projects as I consider them too risky and I will not define a strategy for them.
The Rent projects strategy is the main one, as I obviously want to focus on rent projects, even though the returns will be a bit lower, but it offers me the stability I am looking for.
And then the second one (Fixed interest (loans) projects) is focused, you guessed it, on loans. I haven't picked all the loan types, but rather just the Development, Purchase, and Renovation loans.
If for the first one I allow it to invest unlimited, here I limit it by using the Portfolio size setting. I am doing this to favour the first strategy which is where I want to invest most of my money.
Otherwise for both I have set up to invest the minimum amount per project of 50 EUR, no limitations on the interest rate, period, country or mortgage rank.
However, I did apply a filter for originators, only selecting those with a rating of B, B+, A-, A.
There is one more thing to say here.
EvoEstate allows you to cancel any investment made using Auto Invest within 24 hours. How cool is that?
This is the reason I want to experiment with the Auto Invest a bit. I know that even if it makes an investment that I don't like I get the chance to cancel it.
This is a feature that I haven't seen on any other platforms and definitely makes EvoEstate stand out.
What's upcoming for EvoEstate?
On my call with Gustas he was able to disclose some of the plans for the EvoEstate platform.
The part that got me very excited is that they want to offer to investors a dedicated virtual IBAN EUR account (wallet).
Basically the money you transfer to invest via EvoEstate are held into an account which sole beneficiary is the investor itself, and not EvoEstate as it currently happens. These IBAN accounts will be opened at the Central Bank of Lithuania.
This is a big step forward, and should increase the trust in the platform, as it reduces the risks for investors.
For existing users there will be a migration process which implies re-taking the KYC (Know Your Customer) process. Once done, the existing uninvested money will be transferred from the EvoEstate account to your own EUR IBAN account.
For new users they will automatically get the new account, given they have successfully went through the KYC process.
Now let's go a little into technicalities.
They will not apply for an e-money institution license, but rather will use a provider (like Lemonway, but not necessarily them) that has the e-money institution license. They chose this way as their business is real estate investments and not money transfers and similar, which makes sense to me.
I am really looking forward to this and hopefully they will implement it sooner rather than later.
Otherwise Gustas mentioned they will continue to update the UI / UX as until now they've been building features and not structuring them in the nicest way.
As a testament to that is the recently redesigned Portfolio page which is a great improvement to what it was before.
All in all, they will focus on improving all the features they have right now like Secondary Market, Risk Scorings and so on.
As a conclusion
I hope you enjoyed my EvoEstate review. Yes, it was a long article but I hope it was also very useful.
To conclude, EvoEstate is a young platform, but with a lot of potential.
I really like the fact you can invest in projects originated from major European platforms without the headaches and limitations of dealing with many accounts.
If we think through the lens of what happened in the P2P lending space in the last year, and given the pandemic, I think we all need to be more cautions with our investments.
Despite of that, I do feel EvoEstate is one of those platforms that will do well in the long term. I will definitely keep an eye on it.
Pros
One account for managing multiple platforms
Skin in the game
No fees for investors
Liquid secondary market
Cancel within 24 hours any investment made by Auto Invest
As foreigner you get access to platforms that otherwise may not be available
Start investing with as low as 50 EUR
Baked by venture capital funds
Cons
They are still a young platform and operating in start-up mode
Not very clear explanation of how ratings work
Frequently asked questions (FAQ)
Q: What is real estate crowdfunding?
The practice of funding a real estate project by raising small amounts of money from a large number of people, mostly retail investors, typically through a web platform. Go here to learn more.
Q: What is EvoEstate?
EvoEstate is a real estate crowdfunding aggregator, a marketplace, which allows you to invest in projects across all major European real estate crowdfunding platforms. Go here to learn more.
Q: How safe is EvoEstate?
I would say pretty safe, but can't guarantee.

Although just a startup, they are baked by capital from private investors, but most interestingly is the venture capital of 320.000 EUR from well known funds like Startup Wise Guys (who also invested in EstateGuru and Investly) and Business Angels Fund.

In general I think having venture capital joining EvoEstate is a positive thing for us retail investors and some sort of reassurance that things are moving in the right direction and we will not see another Envestio.
Q: How EvoEstate makes money?
They make money by earning a commission from the loan originator side. Sometimes they might be able to negotiate a better deal in terms of interest levels, keeping the difference for themselves.
Q: What's the legal connection between EvoEstate and the loan originators?
A legal agreement exists, so a contract signed that regulates their relationship.
Q: What is the legal document that proves I have a stake into an investment?
This is the deal confirmation document, and is in the form of a PDF that you get it as attachment in the investment email confirmation.

You can read more here.
Q: Are there any defaulted or late projects on the platform?
Per my knowledge, no defaults so far, but there a couple of late projects. If you go to the originators page, there is a Late column and that's the easiest way to figure out late projects across platform.

If we are talking about your own investments, then on the portfolio page you can find a breakdown between Current, Grace and Late projects.
Q: What are the conditions for a project to transition to Grace or Late status?
If there is a delay up to 7 days the project goes into Grace. If the delay is more than 7 days, it then makes the transition to Late status.
Q: What's the minimum amount you can invest per project?
You can invest manually or via Auto Invest starting from 50 EUR.
Q: How Auto Invest is prioritising investments in case of multiple strategies?
The answer I got from EvoEstate team is the following: if there are enough money in your account, it will invest in all. If there are not, it will invest first in the the oldest strategy moving forward towards the newest.
Q: Can I cancel an investment made by Auto Invest?
Yes, you can, within 24 hours.
Q: What is a Skin in the game deal?
It's a project where founders invest at least 1.000 EUR of their personal capital.

Usually these are high quality projects and they are in high demand on the platform, as you would imagine.

Over time they published many deals like these, the total amount of money invested so far being over 160.000 EUR, which is quite impressive.
Q: What are EvoEstate ratings?
On the platform you can find two types of ratings: for a project and for a loan originator. The ratings go from A+ (lowest risk) all the way to D (highest risk – default).

Usually I choose loan originators and projects with a rating of B, B+, A-, A. You can read more here.
Q: Is there a way to receive project updates?
Yes, for each project they have a button to subscribe to project updates. Even more, they have an ASK A QUESTION button for each project that will allow you to specifically request for updates.
Q: In which type of project should I invest?
There are three types of projects available on EvoEstate: rent, fixed-interest (loans) and equity.

There is no wrong or right answer here and depends on strategy, personality and risk profile.

In general, for a balanced portfolio with a tilt for maximising returns is best to invest in all types, but with different allocations. Use rent projects for stability and predictability, equity for maximising the returns and fixed-interest to be somewhere in between.

You can read more here.
Q: There are many analysed projects. How many of them do not cut the line?
EvoEstate is an aggregator so most of the projects cut the line, except those with a D rating (Default). They allow the freedom for users to chose on their own, by making informed decision based on assigned ratings.

I think this is good, as it eliminates the need to go and use the originator's platform for specific projects just because EvoEstate made the decision to not list them.
Q: What happens if a project defaults?
It's all in the hands of originator, and in theory they should recover the funds or at least do their best try. It looks like the role of EvoEstate in this case will be to just pass over any info or try to answer to questions. They do have the ASK A QUESTION feature that we can make use of.
Q: What happens if a
loan originator defaults?
Not very clear, but in general it depends on the loan originator and how well they are prepared. If I am to make a wild guess, they will appoint an administrator to handle the situation, and eventually some money will be transferred to EvoEstate to pay us the investors.
Q: What happens if EvoEstate defaults?
An administrator will take over. The process should be simple and would only have to deal with the transfer of money from loan originators to investors. They also claim to have 10.000 EUR set aside for this purpose exactly. Essentially they will use the money to pay the administrator to handle the wind down.
Q: Does EvoEstate has an e-money institution license?
Short answer is no.

Long answer is that they are planning to work with a provider that has an e-money institution license. The benefits is that the funds will be kept secure and segregated, the money movements will be transparent and traceable and in general they ensure that they follow the best AML/KYC procedures.

You can read more here.
Share your opinion
Are you already using EvoEstate? If so, please share your thoughts in the comments section below.
Are you satisfied with the returns so far and the quality of projects?
If you're not using the platform, are you planning to give it a try after reading my EvoEstate review?
What ever you think, feel free to leave a comment in the section below or vote.
Until next time,
Marius
Disclaimer: This is a personal blog, containing our opinions and views, and nothing you read here can be used as investment advice or recommendation. You should also know that some of the links in this post may be affiliate links, meaning, at no cost to you, I may earn a commission. Read the full disclaimer here.